Help Desk Services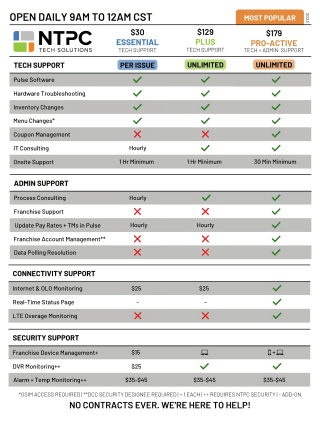 We are a single point of contact for your stores and resolve 93% of our tickets without contacting a vendor. Think about the current process your managers follow to get help when an IT problem occurs.
Are they required to get supervisor approval before contacting a vendor to keep support costs to a minimum?

Are they contacting vendors directly and waiting 30-90 minutes for a callback just to be told they'll look into it and will call back later?

Has your team told you how much they wished there was another provider that can help?

Are you experiencing constant connectivity issues in a particular store that no one has been able to solve?
If the answer is yes to any of those questions, we encourage you to submit a contact form right away.

One call with NTPC can eliminate the tech stress in your store in less than five business days because we are serious about helping your team! Check out our fixed-cost Help Desk Plans and we'll be in touch shortly!